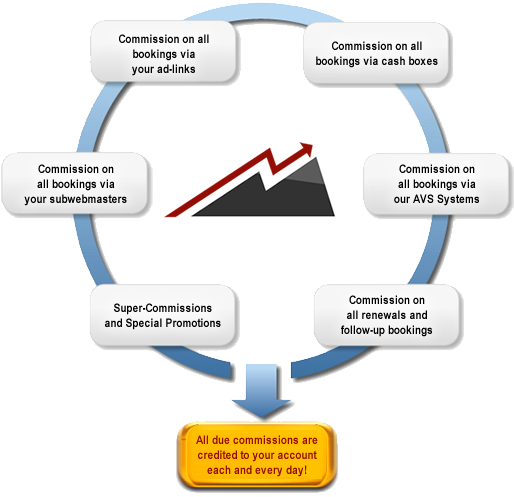 NO CANCELLATION RISK!
Our most successful affiliate programmes are also available at NO CANCELLATION RISK for you! Use this option and enjoy complete security and peace of mind at all times! Maximum commission security at no risk, how does that work? NO CANCELLATION RISK means quite simply that, even if your user cancels or defaults, your commission remains 100% intact!
COMMISSION ON RENEWALS
Long-term renewals and frequent follow-up bookings mean satisfied users and satisfied users mean even more commission for you! Whether for a routine renewal or for a new booking from a registered user, you receive the full commission at all times!
COMMISSION ON YOUR SUB-WEBMASTERS
Introduce other webmasters to our successful concept, then lean back and simply earn on their success! No matter how long they work with our system, you will always receive a share of their gross turnover!